Rearview Mirrorless Cameras
Camera Equipment Review: Rearview Mirrorless. I've gone mirrorless and I won't look back. Yes, in 2013 I dumped my DLSR. I look forward; to carrying less, recording more detail, with increased sharpness and incredible color.
For the first time in digital, I really don't miss film. The ability of this camera system to work in the field with 2/3 less weight on my shoulders has amazed me. The viewfinder remains bright while the camera's ability to capture highlight to shadow detail with the sharpness of the Fujinon lenses provides staggering images.
The Fuji X-E1, 18-55mm, 55-200mm and soon, the 10-24mm lenses will fill a far smaller gear bag than I have carried in 20 years, all while filling my memory cards with sharpness and shadow detail missing since the good old days of transparency film.
Am I happy? I am ecstatic.
My first serious use of the Fuji X system occurred in Autumn of last year on our week-long Copper Country Eco-Photo Tour in Michigan's Upper Peninsula. Shooting the shiny, wet, black rock of the Presque Isle River during heavy overcast presents tough choices in field photography. As I reviewed my first image tests on the LCD screen, my jaw literally dropped. The sharp detail of highlights and shadows impressed me beyond any expectation.
No Raw. No HDR. No post processing.
Camera settings
"Film Simulation" @ "Velvia"
"Electronic Level" activated
100% dynamic range
"Manual" focus (I press the command dial to verify precise focusing)
"Custom" white balance set from reading my white card
ISO 100
"S" (shadow) tone @ "0" for 1st image, "-2" for 2nd image
"Exp Comp"@ -2/3
WOW!
I can even correct barrel or pincushion distortion and peripheral illumination for my vintage lenses (like my old Canon 58mm f/1.2 or any other lenses you may have from a myriad of manufacturers).
Digital photography has arrived.
Join us on a Great Lakes Eco-Photo Tour or Excursion in 2014 to expand your photographic horizons and learn to capture even better images with whatever gear you love!
Bob Grzesiak, Digital Equipment Expert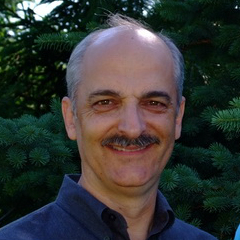 About the Author: Bob Grzesiak co-leads eco-photo tours to scenic locations around the Great lakes and teaches camera features and operations of all camera makes and models.
Learn how to use your camera equipment while capturing stunning nature images. Join us today!
Button Text