Burning the midnight oil, photographer Michael Wojdylak captures the magical Northern Lights
Featured Alumni Photo: Our Great Lakes Photo Tours group enjoyed a very productive and successful week of photography during our recent Copper Country Color Tour 2013. The participants blossomed as talented nature photographers and all of us became family by week's end. It had been a very dry season in the northwestern Upper Peninsula so the autumn color lacked it's usual vibrancy, but we made the most of the summer-like weather.
Colorful autumn reflections in rivers and in Lake Superior shoreline pools became the visual theme for the week. The highlight of our experience was not even on our schedule, but participant, Michael Wojdylak had the fortitude and drive to venture back to some of our day-time locations during the middle of the night. His inspired persistence paid handsomely in the form of wonderful night sky captures, including most notably, the beautiful Aurora Borealis! One of his magical images is our Featured Alumni Photo. Review.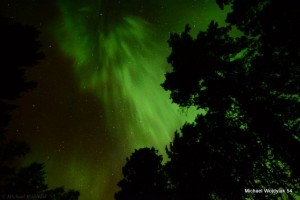 Sometimes what we seek as photographers is not always the subject we expose in our cameras. Copper Country Color Tour 2013 participant, Michael Wojdylak proved this exact case-in-point. While burning the midnight oil and many frames in his camera one night during the tour, Michael not only captured the night sky stars he was after, but also the magical Northern Lights that serendipitously appeared during the process. Because Michael had scouted good locations with us and was instructed as to how to technically capture such an event, he was able to capture one of nature's most wonderful night-time displays.
Great job finding the perfect location Michael. Excellent use of foreground to accent the spectacle. Wonderfully composed and fantastic exposure. What artistic drive and preparation to capture this remarkable situation. Congratulations Michael on capturing the highlight photos from our very special Copper Country Color Tour 2103!
Photo: Green and red northern lights above the silhouetted evergreens, L'Anse, MI; ©Michael Wojdylak
~ Mark S. Carlson, Naturalist Photographer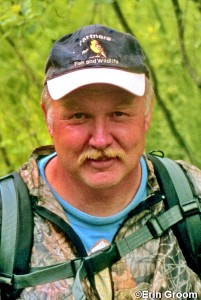 About the Author: Mark S. Carlson leads eco-photo tours to scenic locations around the Great Lakes region while teaching fundamental photography skills and nature ecology. Mark's photography is available for purchase and regularly appears in magazines, calendars, books, websites and galleries.
See Mark's frequent posts of nature photography on our Great Lakes Photo Tours Facebook page and on his naturalist photographer Facebook page.
Don't miss your opportunity to capture the magic of Autumn in the Upper Peninsula in 2014. Register for the Autumn's Hiawatha Eco-Photo Tour.
Register today!