Great egret – sharp contrast to water and greens.
Moments in Nature: Great Egrets in Michigan Wildlife Refuge.
A few days ago, my wife and I took an early evening drive through the Shiawassee National Wildlife Refuge. We enjoyed some great birding opportunities, a gorgeous sunset and a spectacular (nearly full) moonrise. There's quite an abundance of Great Egrets throughout the refuge this year. This one was hunting on an island hummock of swamp smartweed. If I didn't know better, I'd swear we were driving in Florida.
~ Mark S. Carlson, Naturalist Photographer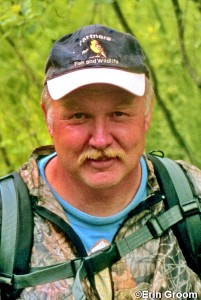 About the Author: Mark S. Carlson leads eco-photo tours to scenic locations around the Great Lakes region while teaching fundamental photography skills and nature ecology. Mark's photography is available for purchase and regularly appears in magazines, calendars, books, websites and galleries.
See Mark's frequent posts of nature photography on our Great Lakes Photo Tours Facebook page and on his personal Facebook page.
Learn to capture wildlife photographs with Mark during an eco-photo tour to a local nature center or sanctuary.
Learn More!