Celebration of the Paper Birch Tree
Moments in Nature: Paper Birch Tree. Today's post didn't start out to be a celebration of paper birch trees, but that's exactly what's happening. As you've probably surmised by now, I love paper birch trees. If you like them too, here's more information you may appreciate.
Paper Birch (Betula papyrifera)
General Description
A native medium to tall tree which is loosely pyramidal when young, developing an irregular oval crown when mature. Drought stress followed by borer attack often causes decline.
Form
Growth Habit – Larger limbs grow upward and smaller branches are more horizontal and flexible. Pyramidal when young, irregular oval to rounded at maturity
Texture – Medium-fine, summer; fine, winter
Crown Height – 30 to 55 feet
Crown Width – 20 to 40 feet
Bark Color – Smooth bark, marked with horizontal lenticels, is reddish-brown when young, turning papery white with age
Soil Texture – Does best on loamy or sandy soils along rivers, lakes or ravines
Soil pH – 5.0 to 7.5
Cold Hardiness USDA Zone 2
Water – Does best on well-drained, moist sites. Does not tolerate drought. Similar to aspen in water needs.
Light – Full sun.
 Wildlife
Used as food by over 30 types of birds and mammals.
 Wood
Firewood, tooth picks, spools, carving and wood pulp. Sap is used to treat leather. Oil extract used to repel insects.
Food
Birch wine is made from the sugary sap.
Medicinal
Used for gout, rheumatism, dropsy, colds, coughs and other pulmonary ailments. It has also been used as a laxative, burn and wound treatment and in cancer research.
Pests
Bronze birch borer is a major pest that can be a problem when trees are stressed by either drought or water-logging. Native birches are less susceptible to the borer than European birches. Extracts of Betula species are toxic to insect pests.
Photo: Paper Birch trees mixed with red maples and evergreens in autumn; ©markscarlson.com — at Hiawatha National Forest, MI.
~ Mark S. Carlson, Naturalist Photographer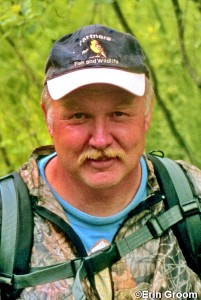 About the Author: Mark S. Carlson leads eco-photo tours to scenic locations around the Great Lakes region while teaching fundamental photography skills and nature ecology. Mark's photography is available for purchase and regularly appears in magazines, calendars, books, websites and galleries.
See Mark's frequent posts of nature photography on our Great Lakes Photo Tours Facebook page and on his personal Facebook page.