Mark S. Carlson captures nature in his own back yard.
Naturalist Photographer's Personal Nature Sanctuary: Since I regularly post photos taken on my personal nature sanctuary, particularly from my meadow, Facebook friends have wondered and asked about my domain here in Shiawassee County, Michigan. Following is a brief history and description…
In 1984, my wife and I purchased 30-acres of old farm fields, including a wood lot, that borders the Looking Glass River. Since then, we've continued to naturalize it and nurture its little ecosystems. Of course, being a naturalist photographer, it's been my inspiration and subject matter for many years. We've only actually lived on our property since 1998 when we built our berm house into the top of our hill, overlooking our valley meadow and a section of the Looking Glass River.
I thought I'd begin sharing more wide-angle scenery so you can see a little more of the 'bigger picture' of where a lot of my close-ups and other images are made.
Photo: The north end of my meadow, looking east, on a foggy, summer morning; ©markscarlson.com
~ Mark S. Carlson, Naturalist Photographer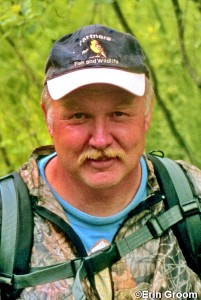 About the Author: Mark S. Carlson leads eco-photo tours to scenic locations around the Great Lakes region while teaching fundamental photography skills and nature ecology. Mark's photography is available for purchase and regularly appears in magazines, calendars, books, websites and galleries.
See Mark's frequent posts of nature photography on our Great Lakes Photo Tours Facebook page and on his personal Facebook page.
Visit our Facebook page for regular updates on Mark's nature photographs.
Facebook
Register for an eco-photo tour or excursion today!
Tour Registration