Autumn sun provides for dramatic photos.
Nature Photography Tips: Autumn often yields dramatic lighting situations for photography. When the sun is at it's very lowest angle, like just after sunrise or just before sunset, a heavily clouded day can become special. The light seems to be more intense coming across the landscape beneath an otherwise heavy cloud layer.
So, even if it's cloudy, keep your camera at the ready, you never know when the magic might happen! Shooting!
Photo: Old farmstead at sunrise beneath a heavy cloud layer; ©markscarlson.com at Alger Co., MI
~ Mark S. Carlson, Naturalist Photographer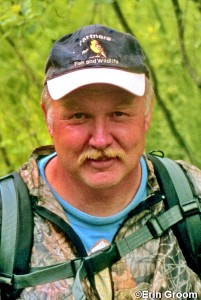 About the Author: Mark S. Carlson leads eco-photo tours to scenic locations around the Great Lakes region while teaching fundamental photography skills and nature ecology. Mark's photography is available for purchase and regularly appears in magazines, calendars, books, websites and galleries.
See Mark's frequent posts of nature photography on our Great Lakes Photo Tours Facebook page and on his personal Facebook page.
Come photograph with other nature and photo enthusiasts this fall. See our calendar for upcoming tours.
Tour Calendar