Spring wildflowers love the bright light and full sunshine.
Nature Photography Tips from Mark S. Carlson: The majority of early spring wildflowers respond and open during bright sunshine. Sometimes good photos can be captured during such lighting conditions, but for the most part, bright overcast light would be more desirable.
The image of a Round-lobed Hepatica was made during a clear, sunny day. The difference is, a diffuser was used to impart the desired overcast lighting condition. The 2 X 2′ diffuser was held over the flower and its surrounding area about 3′ above, while the image was captured. The amount of diffusion brightness can be adjusted by positioning the diffuser closer or higher above the subject. Be careful not to hold it there too long – the flower might think the clouds have moved back in and it will close up!

Shooting!
~ Mark S. Carlson, Naturalist Photographer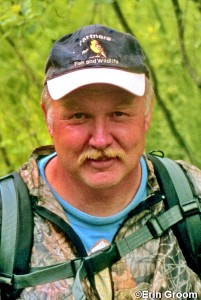 About the Author: Mark S. Carlson leads eco-photo tours to scenic locations around the Great Lakes region while teaching fundamental photography skills and nature ecology. Mark's photography is available for purchase and regularly appears in magazines, calendars, books, websites and galleries.
See Mark in action in a short video clip from the Winter Dunes Eco-Photo Excursion.
Have you signed up for our regular eNewsletter? Keep up on our whereabouts. Get nature photography tips and camera equipment reviews. See the work of recent alumni photographers. Learn naturalist information from Mark S. Carlson and more.
Get Your Free Newsletter Today!