It's not the sunset itself that is offers the best subject matter.
Nature Photography Tips from Mark S. Carlson: Often times the best sunset photos are made right after sunset, especially if it's partly cloudy. Why? Because the light can be very dramatic and with a body of water for reflection plus a few clouds reflecting the colorful afterglow. It's like enjoying dessert after dinner!
The photograph above was taken after a storm during twilight at Lake Stella in Alger County, Michigan.

Shooting!
~ Mark S. Carlson, Naturalist Photographer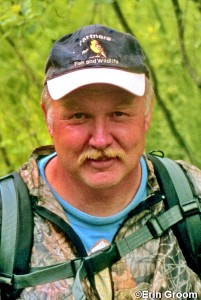 About the Author: Mark S. Carlson leads eco-photo tours to scenic locations around the Great Lakes region while teaching fundamental photography skills and nature ecology. Mark's photography is available for purchase and regularly appears in magazines, calendars, books, websites and galleries.
Join us for an eco-photo tour or excursion to learn fundamental photography skills and your camera's features. We'll walk side-by-side with you as we photograph flora, fauna and stunning landscapes in a single day.
Learn More!