Michigan's Upper Peninsula for "all thing Autumn"
Michigan's Copper Country Color Tour: Copper country is a destination for all things autumn in Michigan's Upper Peninsula. From the tip of the Keweenaw Peninsula to the rolling terrain of Porcupine Mountains State Park, the northwest territory of Michigan offers some of the most scenic beauty in this Country's entire Mid-west region, especially during fall color season. Bordered by the greatest of the Great Lakes, Lake Superior, the topography is rugged and rocky with mixed forests that feature hardwoods a blaze with fiery color during late September and early October.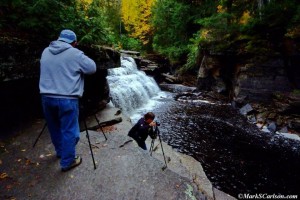 Penetrating the landscape are a myriad of coursing streams and rivers, weaving their way to the Big Lake itself. Many of the U.P.'s 300 or so waterfalls display their most wild charms within the Copper Country area. With exhilarating energy, thundering white water tumbles over cliffs and gushes through boulder-filled gorges. Other waterways gently wind over stair step cascades, luring those with an affinity for music to enjoy some of Mother Nature's most soothing concertos.
Every aspect of Michigan's Copper Country, dressed in autumn, is a sight to behold – wild, yet elegant, breathtaking with grandeur, yet subtle as the fragrance of falling leaves. The sense of place is mesmerizing, experiencing it in autumn – priceless!
~ Mark S. Carlson, Naturalist Photographer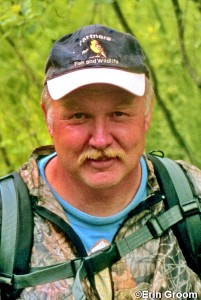 About the Author: Mark S. Carlson leads eco-photo tours to scenic locations around the Great Lakes region while teaching fundamental photography skills and nature ecology. Mark's photography is available for purchase and regularly appears in magazines, calendars, books, websites and galleries.
See Mark's frequent posts of nature photography on our Great Lakes Photo Tours Facebook page and on his naturalist photographer Facebook page.
Join Mark and Bob in 2014 for the next Autumn color tour in the Upper Peninsula. Learn More!